Last month, Bain & Company published a rather shocking report, "Achieving Breakthrough Results in Sustainability." The title is encouraging; its findings are not. Based on a survey of over 300 large companies engaged in sustainability efforts, it found that 98% of sustainability initiatives fail. What the …?!
The report provides
 four guidelines to improve this dismal success rate. One of them is "Highlight the business case." From my experience, a compelling business case is the prerequisite for the other three guidelines. Executives will not "Make a public commitment," "Lead by example," or "Hardwire change through incentives and processes" unless they are convinced that the initiative will be good for the company, as well as good for the environment and society. That's what a good business case helps them see.
The Bain & Company report also outlines five factors that contribute to successful sustainability initiatives. The most important is "Senior leadership support." Again, senior leaders will support the program if it has a strong enough business case to earn their endorsement, engagement, and proactive support. Their support ensures that the other four success factors fall into place: "Employee engagement and interest," "Clear goals and metrics," "Effective internal communication," and "Introduction of environmentally friendly policies / processes."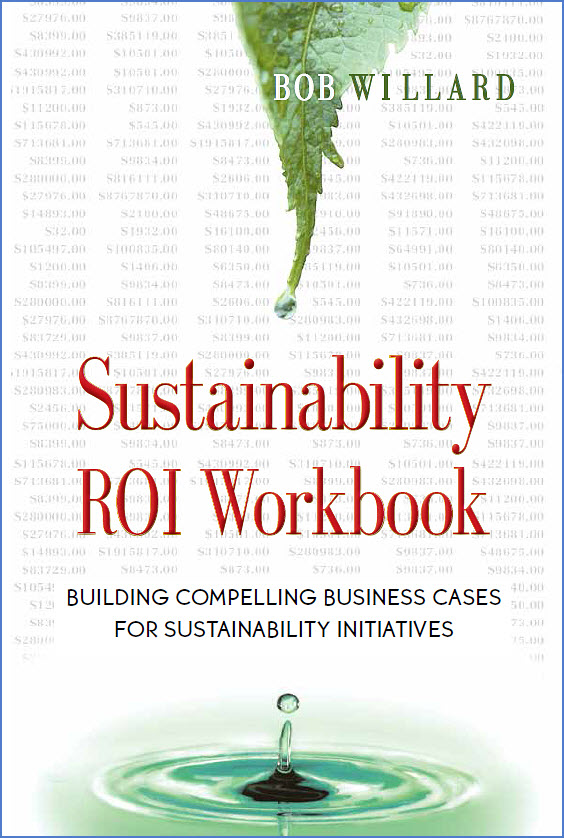 Finally, one of the five reasons given in the Bain & Company report for why sustainability initiatives fail is "Lack of a a compelling business case."  'Nuff said.
If we are to accelerate corporate progress on pressing environmental and social issues, we need to provide the global legions of sustainability champions with better business case tools. As many of you know, that is why my next book is a free, open-source tool that frames a compelling business case for any sustainability initiative.
My working title for the book so far has been, Sustainability Advantage Ultbook:  The Ultimate Workbook of Sustainability Business Cases. As of today, its new working title is, Sustainability ROI Workbook: Building Compelling Business Cases for Sustainability Initiatives. (Check out its latest beta draft, available now on my updated website.) The new title is a more explicit and succinct description of how the workbook's built-in return on investment (ROI) calculations differentiate it from my previous business case worksheets. It contains the complete set of business case elements required to gain the "Senior leadership support" that the Bain & Company report says is a key factor in achieving breakthrough results in sustainability.
The Sustainability ROI Workbook also helps determine how high to set the expectation bar. The Bain & Company report describes failure as "failing to achieve or exceed expectations." The workbook helps clarify and agree on the metrics required to assess the results of the sustainability project, to avoid misunderstandings and disappointments. The claimed benefits of the initiative need to be high enough to achieve enthusiastic senior management approval, but not mislead them. The motto of good salesmanship is "Under-promise, and over-deliver."
We need to meet executives where they are and honor their need for compelling ROI information when they assess proposals. If an initiative improves the company's reputation, grows revenue, saves expenses, engages employees, helps win the war for talent, spurs innovation, meets company norms for payback periods, provides a good internal return on investment, increases the value of company assets, and / or contributes to higher share prices, of course executives will support it.
Armed with comprehensive business case tools, we can reverse the success-failure rates cited in the Bain & Company report. We've got them now. Let's get on with it.
Bob
Please feel free to add your comments and questions using the "Leave a reply" comment box under the "Share this entry" social media symbols, below. For email subscribers, please click here to visit my site and provide feedback. The slides used in this blog will be in my next release of my Master Slide Set, to which anyone can subscribe.
http://sustainabilityadvantage.com/wp-content/uploads/2017/02/Failing-Grade.jpg
638
751
Bob Willard
http://sustainabilityadvantage.com/wp-content/uploads/2015/01/SustAdvLogoblue-fullsize.png
Bob Willard
2017-02-21 19:14:12
2017-02-21 19:14:12
98% of Sustainability Initiatives Fail. What the ...?!