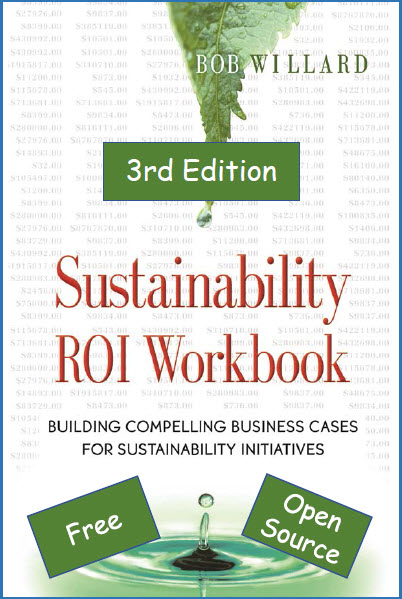 The 1st edition of the Sustainability ROI Workbook was launched in May, and its 2nd edition was released in September. Today, I am releasing the 3rd edition of the Sustainability ROI Workbook ― SRW 3.0, for short. It just keeps getting better, thanks to suggestions and feedback from users and from participants in workshops and presentations. There are 10 reasons the new SRW 3.0 is exciting.
Easier to use: In addition to many text and graphic improvements, it simplifies the calculation of the 5-year flow of benefits. Now, the worksheets calculating how the project generates potential revenue growth and expense savings are much cleaner and simpler to complete.
Optional help: Some of the instructions in worksheets made them look a bit cluttered and complicated. Now there is a link at the top of each worksheet to its new help video for those needing guidance on how to fill in its fields. Plus, some instructions have been moved into pop-up comments for associated fields.
More succinct introduction: Users want to get to the calculations quickly. Material spread across three beginning worksheets is now consolidated into a tighter Introduction worksheet telling users what they need to know before using the workbook.
Consolidated ESG goals: Previously, four worksheets captured how the proposed project would help achieve company environmental, social, and governance (ESG) / sustainability goals. They are now consolidated into one worksheet, and reformatted to make it easier to tailor or replace them with the company's goals, all in one place.
Fewer worksheets / tabs: As a result of worksheet consolidations like those described above, SRW 3.0 now contains eight main worksheets, versus 17 before. Now all worksheet tabs are visible without scrolling, making it easier to quickly navigate among them.
Screen-wide format: All worksheets have been reformatted to fit on a normal laptop screen, without scrolling horizontally to the right, even at 100% magnification. This makes it easier to work with the worksheets by simply scrolling vertically.
Printable format: The narrower worksheets also make printing easier. If users have a need to print any worksheets, they are set up to print legibly in landscape mode.
Updated with Future-Fit Business Benchmark – R2 goals: The workbook comes with a complete set of potential sustainability goals, as defined in the science-based Future-Fit Business Benchmark. Release 2 of the benchmark was published in November. It includes 23 cause-no-harm sustainability goals that companies must meet to be truly sustainable, plus 20 do-some-good sustainability goals that company's may also undertake. SRW 3.0 is updated to include this new starter set of goals, which users can tailor to reflect their companies' ESG goals (see above).
More CFO-friendly: Reformatted Overview and Project Appraisal worksheets look more like a typical form used by Chief Financial Officers (CFOs) when deciding whether they will approve a project requiring capital expenditure. Highlights from other calculation worksheets are now automatically copied into the Overview and Project Appraisal worksheets, without the user needing to compose them.
Faster download: For users with slow internet connections, the 19 MB size of the previous edition took a while to download. A lot of that file size was because of extensive graphic figures in one of the appendices. It has been moved into a separate download, so SRW 3.0 is only 7 MB and downloads faster.
If you have downloaded previous versions of the workbook, I encourage you to download SRW 3.0 and check it out. Its still a free and open-source resource, and you can download it an unlimited number of times.
Consider it as my year-end present to sustainability champions everywhere. Let's resolve to use it to accelerate company approval for, and implementation of, critical sustainability projects in 2018.
Happy New Year!
Bob
Please feel free to add your comments and questions using the "Leave a reply" comment box under the "Share this entry" social media symbols, below. For email subscribers, please click here to visit my site and provide feedback.
http://sustainabilityadvantage.com/wp-content/uploads/2015/01/SustAdvLogoblue-fullsize.png
0
0
Bob Willard
http://sustainabilityadvantage.com/wp-content/uploads/2015/01/SustAdvLogoblue-fullsize.png
Bob Willard
2017-12-17 18:28:21
2017-12-17 18:31:28
10 Reasons the New SRW 3.0 Is Exciting