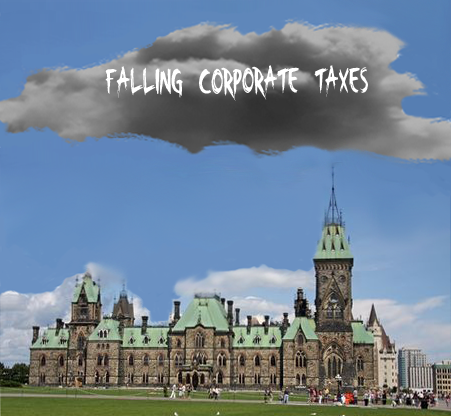 This statement still haunts me:
"This government is not that interested in increasing the government's capacity
to do anything about anything. They are not interested in raising more revenue."
It grabbed me when I first read it a month ago in the latest issue of Canadian Centre for Policy Alternatives (CCPA) "Monitor" magazine. The title of the article, "
The Big Heist: Canada continues to let billions leave the country tax free
," should have been my first clue. The above quote was attributed to Dennis Howlett, executive director of
Canadians for Tax Fairness
. He was referring to the Canadian Conservative federal government led by Stephen Harper. I remember thinking when I read that quote, "Surely, that can't be true!" After re-reading the article several times and doing some further research, I'm starting to agree with it. There are 3 strange signs that the Canadian government is not interested in more corporate tax revenue that would give it the "capacity to do anything about anything." 
Read More
http://sustainabilityadvantage.com/wp-content/uploads/2015/08/Falling-Corp-Taxes-copy.png
416
451
Bob Willard
http://sustainabilityadvantage.com/wp-content/uploads/2015/01/SustAdvLogoblue-fullsize.png
Bob Willard
2015-09-01 11:30:27
2015-12-07 07:00:19
3 Strange Signs Our Government Doesn't Want Corporate Taxes