Latest Workbook & Slides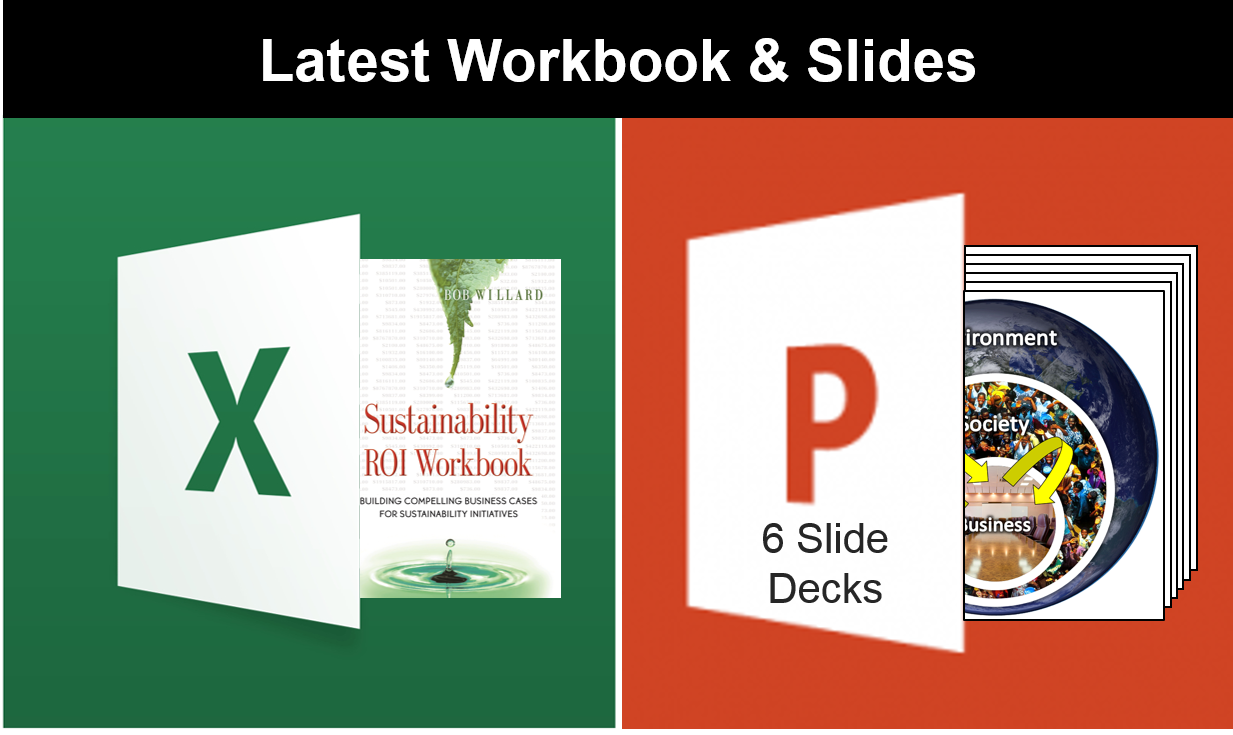 "Your slides have been a lifesaver for me. I am often looking for a piece of data or a study to back up a sustainability claim in class and always know that I can find this in your slides. Having done a lot of executive education, this has been invaluable, and I have often pointed interested clients to your website to use your tools to help sell the sustainability opportunity further at their organizations. I really can't thank you enough."
— Daina Mazutis, Endowed Professor of Ethics, Responsibility and Sustainability, Telfer School of Management, University of Ottawa —
What is the "Latest Workbook & Slides"?
It is a yearly subscription to the latest versions of the open-source Sustainability ROI Workbook and six slide decks containing over 600 curated slides.
Latest Workbook – Sustainability ROI Workbook: This is the 2nd Edition of the Sustainability ROI Workbook published in September 2017. It is still a free, open-source resource and includes many usability enhancements.

One comprehensive business case for any project.
A summary, with bite-sized backup worksheets for each element
Oriented to what CFOs need to know in the 21st century
Includes ESG goals in the "Do the Right Thing" justification.
Provides a Project Appraisal Tool for CFOs

Further enhancements will be available exclusively to subscribers in the December 2017 quarterly update and subsequent updates.
Latest  Slides – Sustainability ROI Workbook deck (about 300 slides): This is the companion slide deck for the 2nd Edition of the Sustainability ROI Workbook, above. It contains PowerPoint versions of the figures in the Workbook, plus slides with backup information for the guidance provided in the comments in the worksheets.
Latest Slides – Future-Fit Business Benchmark deck (about 50 slides): This deck provides an overview of the Future-Fit Business Benchmark, including the context need for the benchmark; the best-available science that underpins it; its do-no-harm goals and key fitness indicators (KFIs); its uses; the upcoming do-some-good / create value goals; and what's to come next.
Latest Slides – Sustainability Champion's Guidebook deck (about 100 slides): This deck provides a summary of the highlights in The Sustainability Champion's Guidebook. It includes the 7-step change model; 7 leadership practices; 7 leadership paradoxes; 7 derailers to avoid; handling objections; change agent competencies; and additional resources.
Latest Slides – Sustainability Context deck (about 150 slides): These slides provide an overview of sustainability terminology; sustainability frameworks and standards; municipal and academic sustainability frameworks; the state of the world; socio-economic issues; sustainability initiatives' impacts on jobs and the economy; reporting; rating and ranking; and business sustainability coalitions .
Latest Slides – Climate Destabilization Context deck (about 100 slides): These slides include an overview of the climate situation and predictions; our carbon budget; perverse subsidies; warnings over the last 30 years; and action being taken to avoid climate destabilization.
Latest Slides – Green Buildings Benefits deck (about 25 slides): These slides provide an overview of direct and direct benefits of new and retrofitted green buildings.
The six slide decks are a goldmine of over 600 slides with topical insights and context about progress on sustainability in the business community. Every quarter, Bob adds new slides to the decks, updates others, prunes redundant or outdated slides, and enhances the Sustainability ROI Workbook to reflect those changes and other usability improvements.
Why subscribe?
The resources help sustainability champions get credible and stay credible
Bob does 80-100 presentations a year, so he needs to stay current and credible. He subscribes to over a dozen news feeds about how sustainability momentum is building in the business community. He continuously refines, enhances, and updates his slide decks – and the Sustainability ROI Workbook – with information from the latest surveys, articles, books, reports, and other research. Footnotes on the slides help subscribers to optionally explore original sources further. New versions of the slide decks every three months are accompanied by a

"Latest – What's New"

list of additions and updates so that subscribers can quickly zero in on the latest news.
The resources enhance sustainability literacy

The slide decks can be reviewed by sustainability champions and their colleagues to help them connect the dots between sustainability issues and potential business impacts. They can be browsed by interested managers and executives before or after conversations about the business case for a sustainability initiative under consideration. In a sense, they provide a Cliffs Notes-like crash course on the sustainability imperative for business.
The resources are designed to be "plagiarized" and shared
The ready-to-use slides are available in raw .ppt format so that subscribers can cut-and-paste content from any slide into their preferred presentation template. In fact, they are encouraged to treat the slides as their own, and to share them with colleagues, students, and clients in any way that helps accelerate progress on pressing sustainability issues. The original Sustainability ROI Workbook is an open-source resource. So are its latest versions, so innovative subscribers can use the most recent version as an enhanced foundation on which to create tailored versions of the sustainability business case workbook for specific sectors or users, for other technology platforms, in other languages, and in simpler formats. Go for it!
How to subscribe
A $39 annual subscription fee entitles you to the latest versions of the Sustainability ROI Workbook and the six slide decks, plus three quarterly updates to them. Subscribers are alerted to the availability of new versions in March, June, September, and December. They can login through the "Subscriber Login" link in the black footer bar, below, to access the "Download Latest Workbook & Slides" page at any time. Only subscribers can access those resources.
Subscribe for a year and you'll see why Bob considers a subscription to the "Latest Workbook & Slides" as his most valuable resource for sustainability champions. Most subscribers treat the subscription fee as a business expense. Also, some people subscribe as a crowdfunding-like way to support Bob's ongoing efforts to deploy useful resources for sustainability champions – they consider their resulting right to access the latest versions of the workbook and slides as their "return" on their investment.
After paying using PayPal, you will be directed to the "Latest Workbook& Slides Downloads" page. Subscribers can log in and access that page anytime using the links in the Subscriber Information section in the black footer bar, below.