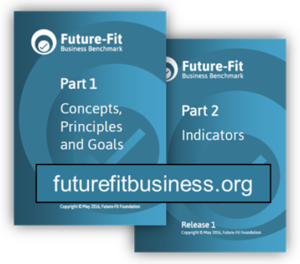 For several years, I have worked with the Future-Fit Foundation to develop a Future-Fit Business Benchmark. Work began in mid-2012. We had two public drafts, in 2014 and 2015 and received hugely helpful feedback from the sustainability practitioner community. This week, the Future-Fit Foundation launched Release 1 on a jazzy new website. Ta dah! There are 5 firsts for the Future-Fit Business Benchmark – Release 1 (F2B2 R1) that make this a significant milestone.
First science-based definition of required sustainability performance for business
Based on best-available science as defined by The Natural Step (TNS), the two-part F2B2 R1 defines the necessary and sufficient set of aspirational goals and associated KFIs for any company that wants to be fit for the future on a more socially-stressed, and carbon-, water-, and resource-constrained, finite planet. Part 1 covers its concepts, science-based principles and its 21 ultimate goals. It defines a truly sustainable company so that we can now recognize one if we find one.  Part 2 provides guidance on how to calculate the key fitness indicators (KFIs) for the goals so that companies can self-assess their progress toward each goal on a scale of 0-100%.
F2B2 R1 has science-based performance targets for the complete suite of environmental and social goals for any business that wants to be a truly sustainable company positioned to thrive in a more uncertain future. This is a big first.
First aggregation guidance for a complete suite of supply chain impacts
Few would take issue with the notion that a company is responsible and wholly accountable for impacts within its direct control, such as those caused by its own operations and the design of its products. From a systems perspective, a company is also mutually accountable for impacts resulting from the operations of suppliers of any outsourced core functions and product inputs whose absence would seriously affect the company's business. That is, the company is mutually accountable for all cradle-to-gate operational impacts caused by the creation of its product inputs by its core suppliers. Aggregating the future-fitness of supply chains is challenging. Part 2 of F2B2 R1 provides guidance on how to calculate that assessment and aggregation for the suite of environmental and social goals that relate to supplier operations, another first.
First transparent, open-source, and free sustainability performance benchmark
Third-party raters typically ask a company to complete exhaustive questionnaires – often requesting commercially-sensitive information – and then feed the responses through a proprietary black-box methodology to calculate the company's 'score.' Because the scoring process is opaque, the results fail to provide the rated company with much actionable insight about where and how to improve. The downloadable F2B2 R1 enables a new approach, one which equips companies with a transparent, free, and open source means by which to self-assess their progress toward clear goals. Only if a company wishes to talk publicly about its future-fit performance (and there is no obligation to do so) must its calculations be independently assured.
First step toward a net positive benchmark
A future-fit business is one that creates value while in no way undermining – and ideally increasing – the possibility that humans and other life will flourish on Earth forever. If it were to operate forever, it would not only do no harm, it could do well by doing some net good. Release 1 defines the do-no-harm threshold that must be reached: the minimum that any company must do to gain its entry ticket to the sustainable future. Moving beyond doing no harm to assess net positive impact will be the focus of Release 2.
First of five future-fit benchmarks
The for-profit business sector can't do what needs to be done alone. The science-based benchmark for a sustainable business provides a model for additional future-fit sustainability benchmarks for other sectors: public sector (municipal, state / province, and national governments); academic sector (schools, colleges, and universities); civil society sector (non-governmental organizations (NGOs) and not-for-profit organizations); and the household sector (us). Because they will be based on the same science and include similar do-no-harm goals, the ripple effect from these five future-fit benchmarks will re-embed common, vital future-fit mindset in all sectors of society.
So F2F2 R1 is an exciting milestone. We are proud of its five firsts. The proof of its value will be how quickly it gets traction in the business community. That's where you come in. If you agree that the benchmark blows the fog away from the necessary sustainability goal lines, is there anything you can do to help us accelerate our collective progress toward the goals most relevant to you and your organization?
Bob
Please feel free to add your comments and questions using the "Leave a reply" comment box under the "Share this entry" social media symbols, below. For email subscribers, please click here to visit my site and provide feedback. Backup slides for the Future-Fit Business Benchmark are in my Master Slide Set, which subscribers can use any way they want to.
https://sustainabilityadvantage.com/wp-content/uploads/2016/05/F2B2-R1.png
476
541
Bob Willard
https://sustainabilityadvantage.com/wp-content/uploads/2015/01/SustAdvLogoblue-fullsize.png
Bob Willard
2016-05-17 09:24:46
2016-05-17 09:24:46
Announcing: 5 Firsts for the Future-Fit Business Benchmark