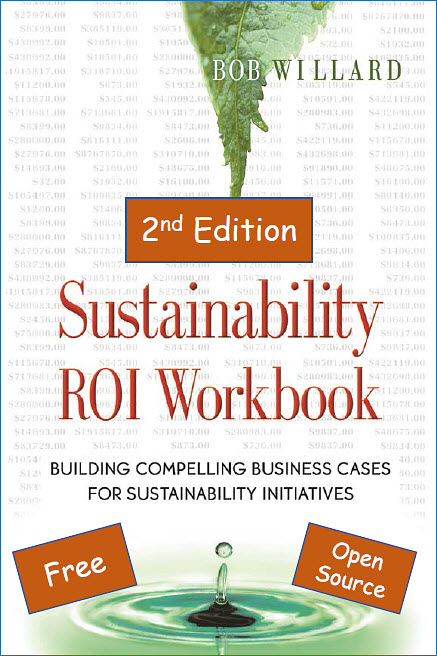 We're on a roll! I self-published the Sustainability ROI Workbook in May 2017. To expedite its use by global legions of sustainability champions, it is a free, open-source resource that is available from my website.  Over 1,600 people have already downloaded it, which is great! I have encouraged people to use this open-source resource as a foundation on which to create new versions for specific sectors or users, for other technology platforms, in other languages, and in simpler formats. I have followed my own suggestion. Based on feedback from users, conversations with chartered professional accountants (CPAs), and good ideas that keep hatching while I'm sleeping, I have created an enhanced 2nd Edition of the workbook. As of September 11, it will replace the current version and will be the new, free, open-source resource that is downloadable from my website from then on. It will include 7 enhancements to the original Sustainability ROI Workbook.
Provides one comprehensive business case
It consolidates the five business cases in the 1st Edition into one comprehensive business case that works for projects in any of the five categories of sustainability initiatives. Built-in guidance on possible improvements for all line items is more succinct and comprehensive. In fact, it is designed to be used to build the business case for any project, even ones that are not explicitly sustainability-related.
Provides user-friendly, bite-sized worksheets
Having all the business case elements on one worksheet was overwhelming for some users. The 2nd Edition uses a separate worksheet for each business case element.
Integrates company baseline data into worksheets that use them
Current company baseline data is integrated into worksheets that use it, rather than gathered in a separate worksheet. Cells for current data are highlighted in yellow to make it easy to quickly browse the workbook, see which current data will be needed and how it will be used, and decide whether it is likely to be relevant for your project before you track it down.
Tells CFOs what they need to know
Proposals for significant sustainability-related projects are assessed by a decision-making team of executives, usually led by the Chief Financial Officer (CFO). CFOs expect an application for funding for any project to satisfy criteria specified in their traditional company Capital Expenditure (CAPEX) Request form, or equivalent. In the turbulent, complex, 21st century business arena, CFOs need to know how the project addresses environmental, social, and governance (ESG) impacts, risks, and opportunities. The 2nd Edition aligns the elements of the business case for the project with the full suite of ESG-related and traditional decision-making criteria.
Explicitly links company ESG goals to the "Do the Right Thing" justification
The 2nd Edition explicitly includes how the project improves sustainability performance in the "Do the Right Thing" group of business case elements. The ESG goal worksheets are populated with a starter set of Future-Fit Business Benchmark goals, which can be easily replaced with equivalent user-preferred goals for sustainability issues. Company performance before and after the project on do-no-harm sustainability goals is captured, plus descriptions of company do-some-good efforts on environmental, social, and employee wellbeing are now included.
Introduces a Project Appraisal Tool
It encapsulates the project's business case in a Business Case Summary and provides a Project Appraisal Tool that CFOs can use to appraise the business cases for one or more projects.
Uses a structured decision-making method
The Project Appraisal Tool uses a weighted-criteria analysis (WCA) methodology. Decision makers weight their decision-making criteria and score how well the business case elements in the proposal meets each criteria. Excel calculates the weighted justification score and senior executives use that summarized information to decide whether the project warrants their approval and support.
Why am I telling you all this now, if the 2nd Edition won't be available until September 11? Because I will be doing a 2-hour ISSP webinar about it on September 14 and you may want to protect the time (noon to 2 PM Eastern) to participate. During the webinar, I'll provide more context for the 2nd Edition and walk you through how to use it. I hope to see you then.
I think you'll agree that the 2nd Edition provides a better way to frame the business case and a better base on which to build the justification for your sustainability-related project. And it's still free.
Bob
Please feel free to add your comments and questions using the "Leave a reply" comment box under the "Share this entry" social media symbols, below. For email subscribers, please click here to visit my site and provide feedback. Backup slides for the 2nd Edition of the workbook will be included in my Latest Workbook & Slides, to which anyone can subscribe.
https://sustainabilityadvantage.com/wp-content/uploads/2017/09/ROI-Wk-Cover.jpg
656
437
Bob Willard
https://sustainabilityadvantage.com/wp-content/uploads/2015/01/SustAdvLogoblue-fullsize.png
Bob Willard
2017-09-06 05:28:32
2017-09-06 05:28:32
Coming soon! 7 Enhancements to the Original "Sustainability ROI Workbook"