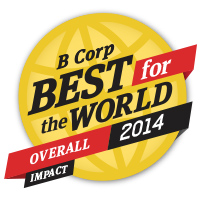 As a Sole Proprietor of Sustainability Advantage, Bob ducked doing a sustainability report for years. As a private company, he did not need to do one and no one was asking for it. On the other hand, if he wants to be "the change we seek," it behooves him to be transparent about his efforts to walk the talk on his own sustainability journey.
B Corps are innovative companies that operate for the benefit (B) of the company, society, and the environment. B Lab, a nonprofit organization in Pennsylvania, oversees the certification ratings and auditing requirements for B Corps. Although the idea of being a B Corp appealed to him when he first heard about them, Bob did not realize until late 2010 that he could qualify as a Sole Proprietor in Canada. He can, and he did. Sustainability Advantage became a Certified Benefit Corporation (B Corp) in January 2011.
His B Impact Assessment Report is a byproduct of the process by which Bob renews his certification for Sustainability Advantage each year. His 2016 report summarizes how his contributions in the assessment areas—Governance, Community, and Environment—contribute to his composite B Score. He has been has been honored to be on the "Best for the World Overall" list of B Corps three times.
His responses to the detailed B Impact Assessment questionnaire constitute Bob's Sustainability Report. In addition, his 72 Eco-Efficiency Initiatives in his home office / home might be of interest.
Bob is proud to be Certified B Corporation. He looks forward to improving his benefit impact score. As outlined in his Sustainability Advantage Policies document, he has an unusual "10% for People and Planet" giving policy. Bob makes monetary donations amounting to at least 10% of Sustainability Advantage's annual revenue to worthy efforts to address pressing social and environmental (people and planet) issues. In addition, he makes non-monetary / in-kind donations to registered charities, non-charity NGOs,  and individuals doing worthy social and environmental work. Bob's "10% for People and Planet" commitment helps him fulfill his B Corp environmental and social purposes.