Future-Fit Business Benchmark
This book is my first collaborative co-authorship adventure, and it may never be printed as a "book" book. Instead, it is a downloadable .pdf e-book and has its own Future Fit Business website.
The benchmark is not another sustainability standard. It is a benchmark, which can be integrated into the 100+ sustainability reporting and rating standards that are currently in use. It does not provide explicit guidance on how to achieve that level of performance; it defines what level of performance is necessary, based on best-available science.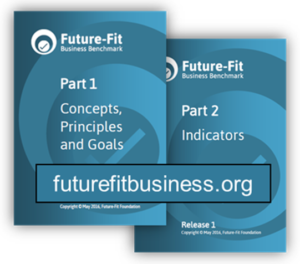 All key fitness indicators (KFIs) are necessary. Companies are not able to compensate for poor achievement on a couple of KFIs by exceptional performance on others. To be a truly sustainable future-fit business, the company must do well on all KFIs.
The benchmark describes the steady state when a company, any company, is truly sustainable and fit for the future. The benchmark simply describes the goal line, as defined by best-available science. Some raters may integrate the benchmark goals into their criteria and choose to weight the KFIs to convey a sense of urgency or importance for a few critical indicators in the eyes of their audience. That is their choice. Since performance on all KFIs is necessary to maintain a future-fit steady state, the benchmark treats them all as equal.
A business that performs at the benchmark level will flourish while adding to the well-being of its stakeholders. The science-based benchmark for sustainable businesses provides a model for additional future-fit sustainability benchmarks for other sectors in society, like government, education, and households. With appropriate support, those benchmarks may be defined in future collaborative projects.
Visit the Future-Fit Business Benchmark (F2B2) website to check out Release 1 which was launched in May 2016.
Other F2B2-Related Downloads
Business Leadership Toward the World We Want: This poster shows how the Sustainable Development Goals (SDGs) and the scientific system conditions for a sustainable human society on earth are the foundation for the necessary goals for a future-fit, truly sustainable business. It also shows how the goals define the necessary level of performance for the five categories of sustainability initiatives and how those initiatives support the SDGs for the society that we want.
Threat Comparisons: This worksheet shows the sources used for the threats to society and business that are referenced in Part 1 of the Future-Fit Business Benchmark, Release 1.

Goals Comparison

: This worksheet maps the 21 Future-Fit Business Benchmark goals to issues, criteria, goals, and topics addressed in 13 other sustainability reporting and standards frameworks, such as the Global Reporting Initiative (GRI), the UN Sustainable Development Goals (SDGs), B Lab's Impact Business Assessment (BIA) questionnaire, ISO 26000, CDP's questions, the Dow Jones Sustainability Index (DJSI), etc.
Wellbeing Comparisons: This worksheet shows the various societal wellbeing frameworks that were used to cross-check the issues and areas addressed by the eight science-based System Principles that are the foundation of the Future-Fit Business Benchmark.
Companies with Similar Goals: This document gives examples of companies that already have set themselves goals which approximate the level of performance required by Future-Fit Business goals. Most of these examples are from the Pivot Goals database.
Stakeholder Map: This worksheet shows how the goals are relevant to different stakeholders, with the environment treated as a stakeholder.
KFI Calculations: This worksheet summarizes how the Key Fitness Indicators (KFIs) for the goals are calculated, including how supply chain metrics are aggregated, as explained in detail in Part 2 of the Future-Fit Business Benchmark, Release 1.