The

New

Sustainability Advantage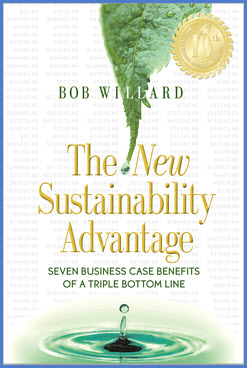 The New Sustainability Advantage has a recalibrated and more compelling profit-based business case for sustainability strategies than The Sustainability Advantage, written ten years earlier. It shows that if a typical company were to use best-practice sustainability approaches already being used by real companies, it could improve its profit by at least 51% to 81% within three to five years, while avoiding a potential 16% to 36% erosion of profits if it did nothing.
The fully revised business case is organized around seven easy-to-grasp bottom-line benefits that align with current evidence about the most significant sustainability-related contributors to profit.
1. Increased revenue
2. Reduced energy expenses
3. Reduced waste expenses
4. Reduced materials and water expenses
5. Increased employee productivity
6. Reduced hiring and attrition expenses
7. Reduced risks to revenue and expenses of inaction
Expressed in clear business language and presented in an appealing, graphically rich format, this is a practical guide for sustainability champions who need to justify more aggressive sustainability strategies.
Its companion free web-enabled New Sustainability Advantage Dashboard enables executives to enter their own data and quickly identify high-leverage benefit areas for their organization. More detailed free and open source downloadable New Sustainability Advantage Worksheets help them drill down into specific areas of interest and fine-tune the assumptions to their specific situation. These worksheets are the "Ultbook Lite" version of the business case for sustainability, without the cash flow, return on investment (ROI), balance sheet, and market value business case elements included in the Sustainability Advantage Ultbook Worksheets.
---
The New Sustainability Advantage: The Presentation DVD
This DVD contains two videos of Bob Willard's talks based on The New Sustainability Advantage. It used to be for sale, but is now sold out. In the interests of dematerialization and ready access to useful tools, it is now freely available on Vimeo for anyone to view.
Keynote Presentation (42 minutes) is available on Vimeo.
This is a composite of excerpts from three of Bob's talks.
Part I: An overview of sustainability terminology, from a keynote talk at a Certified Management Accountant (CMA) Ontario Big Ideas Conference in December 2011.
Part II: An explanation of the five-stage sustainability journey, from a talk to a class at York University in February 2012.
Part III: An overview of the compelling business case for sustainability strategies, from a talk and book launch at the Toronto Sustainability Speaker Series (TSSS) in June 2012.
Additional footage from the TSSS event is used in the opening and closing of the DVD.
Business Case Presentation (21 minutes) is available on Vimeo,
This is the brief talk done at the book launch at the Toronto Sustainability Speaker Series (TSSS). It skips the discussion about sustainability terminology and the sustainability journey in the Keynote Presentation video, but includes the overview of the new business case and associated tools available to sustainability champions.
Business Case for Sustainability (4.5 minutes) is available on YouTube. It is a short animated video by Sustainability Illustrated / Alex Magnin. It is based on The New Sustainability Advantage and is brilliant.