New Sustainability Advantage Worksheets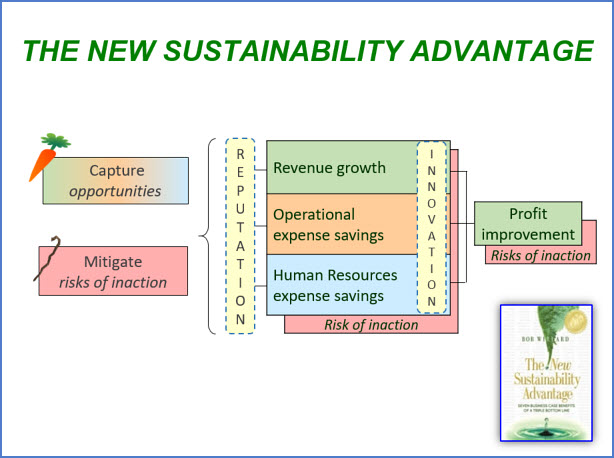 The New Sustainability Advantage outlines how smart sustainability strategies have contributed to financial gains for real companies. It describes how two typical companies could realize increased profits if were to simply use best practices that have worked well for other companies in seven benefit areas.
As a companion tool to the book, the New Sustainability Advantage Worksheets provide data profiles of the two sample generic companies as starter sets with which to initialize the worksheets. If you have data for a specific company, you can plug it into the worksheets and see the potential benefits from sustainability strategies for that company.
The online, interactive New Sustainability Advantage Dashboard is a five-minute version of the simulator. You may want to play with it first and then download the free New Sustainability Advantage Worksheet to drill down into specific areas of interest and fine-tune the assumptions to the particular company's situation. Extensive comments / explanations throughout the worksheets explain the assumptions and methodology.
Note that the Sustainability Advantage Ultbook Worksheets  provide a more comprehensive business case framework. The New Sustainability Advantage Worksheets can be used as a profit-centric "lite" version of the Ultbook worksheets. See Appendix A of Ultbook for a detailed comparison of the two sets of worksheets.
Download the New Sustainability Advantage Worksheets (a.k.a. "Ultbook Lite")
The worksheets are a free, open source tool, licensed under the most generous Creative Commons license that encourages others to build new products on their base, including commercial products. They may be of interest as a modeling / simulation / calculator tool that you could jazz up, rebrand, and make available to others. For example:
A French translation of the simulator was developed by ECOsystemIE. To learn more about the French version, please contact Marie-Chantal Vincent, Principal, ECOsystemIE.
A Japanese translation of the simulator was developed by Yasuyo Ide. To learn more about the Japanese version, please contact Yasuyo ( Sue ) Ide.
(To include your enhanced version of the Worksheets in this list, contact Bob Willard to discuss how best to do that.)